Ni hao!
I was on the verge of running out of vacation locations, so I turned East and discovered - China!
So, in November 2007, I was part of a tour group that travelled through a small part of China, starting in Shanghai, next to Hangzhou by train, then to Xi'an by plane, and finally flying to Bejing before returning home. The trip was slightly exhausting: Early up, hurried breakfast, sightseeing, extensive lunch, sightseeing, extensive dinner, sightseeing, a show on some nights, late to bed. And some trips with trains, a boat ride and a few flights mixed in for good measure. But it was fun, mostly due to the wonderful group I was with! The trip was well organized, so none of us had to bother about anything besides the personal necessities, and how to get the best photos. So due to the very large amount I was able to take, I had to make a choice which to use, but they are still too many, so I divided the travel report into five parts.
I hope you enjoy looking at the photos as much as I had fun when I was there to take them! And perhaps you'll also find the accompanying words interesting.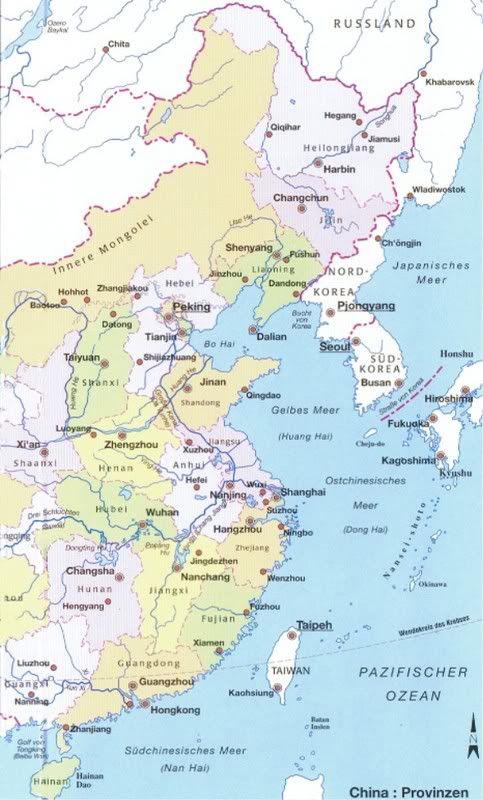 Map/Karte: APA Guides China, 2007/08



Mir fielen schon beinahe keine neuen Urlaubsziele mehr ein, deswegen wandte ich mich gen Osten und entdeckte - China.
Deswegen war ich dann im November 2007 war als Teil einer Reisegruppe durch einen kleinen Teil von China unterwegs. Wir flogen nach Shanghai, fuhren mit dem Transrapid in die Stadt, von Shanghai mit dem Zug nach Hangzhou, mit dem Flugzeug weiter nach Xi'an, und ein weiterer Flug nach Peking von wo aus wir dann zurück nach Hause flogen. Die Reise war gelegentlich ein bisschen anstrengend: Früh auf, schnelles Frühstück, Besichtigungen, ausgedehntes Mittagessen, Besichtigungen, ausgedehntes Abendessen, Besichtigungen, eine Show an manchen Abenden, spät zu Bett. Und natürlich die Zug- und Schifffahrten und Flüge nicht zu vergessen. Aber es war grosser Spass, vor allem Dank der Gruppe. Die Reise war gut organisiert, deswegen musste sich niemand von uns um anderes als die eigenen Bedürfnisse kümmern, und wie an die besten Photos zu kommen. Wegen der grossen Menge, die ich machte, ist das hier nur eine Auswahl, aber da es immer noch ziemlich viele sind, habe ich den Urlaubsbericht in fünf Teile zerlegt.
Ich hoffe, Euch macht das Anschauen der Bilder ebensoviel Spass wie ich hatte als ich dort war und sie machte! Und vielleicht ist der Begleittext auch nicht ganz uninteressant.




| | |
| --- | --- |
| Seite erstellt am 13. Dezember 2010 von EFi | back home |

The owner of this site accepts no responsibility for design or any content relating to this site that is or might be found on external websites belonging to other people or organizations, nor for any links to this site.